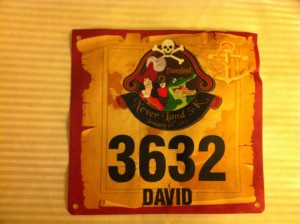 Last weekend I ran my 3rd official 5K race, and it was my 2nd runDisney race at Disneyland as well. This was called the "Never Land Family Fun Run 5K" and is part of the overall "Tinker Bell Half Marathon Weekend" hosted by runDisney.
The race traverses through the Disneyland Park and Disney California Adventure Park. The starting line was near the hub of Disneyland, and then took us through the parks and backstage areas. Along the route, there were a variety of parade floats, character meet-and-greets, and castmemebers cheering us on. I am still at a stage in my running where I am more focused on running than on enjoying these fun aspects of the runDisney races. In reality, it would be more practical for me to run other races "seriously" and just relax for the Disney ones. I'll hopefully get there eventually!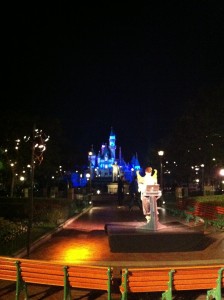 I somehow managed to average a 12:31 avg mile, which is apparently a record for me according to RunKeeper! I was pleasantly surprised that it registered as a full 5K, as my previous to 5K races didn't show a full 5K on my phone. I am sure that it was more likely a phone accuracy issue in the last race… but this makes me feel more validated.
Overall, I really enjoyed the experience, and am looking forward to the 2013 Disneyland Half Marathon!
RunKeeper Details : http://runkeeper.com/user/bigwavedave/activity/143101173
The Never Land 5K "Medal" :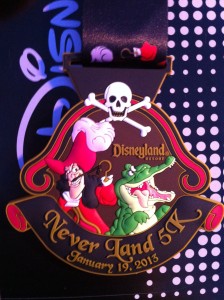 If you are curious a little more about it, here is a video of Sean Astin from the weekend…